Welcoming and Inclusion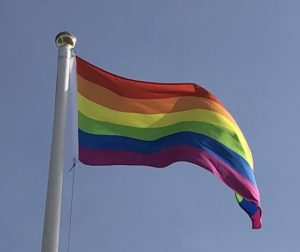 LGBTQIA stands for Lesbian, Gay, Bisexual, Transgender, Queer or Questioning, Intersex, and Asexual or Androgynous.
Sexual orientation is one's inherent and enduring emotional, romantic, or sexual attraction to other people.
Gender identity is one's innermost concept of self as male, female, a blend of both or neither–how individuals perceive themselves and what they call themselves. One's gender identity can be the same or different from their sex assigned at birth.
Some congregations are interested in taking the important step of learning more about the LGBTQIA community. Others have already followed the process to become "Believe Out Loud" congregations, discerning as congregations to fully welcome and affirm individuals of all sexual orientations and gender identities. Some are ready to begin this process now. Others have begun celebrating same-sex marriages. Wherever you are on your journey, we hope these resources will serve you well in your ministry.
We recognize the work of living more deeply into our faith and widening our circle of welcome is not linear in nature. It is a rich and complex journey of ongoing transformation as we live still more fully our baptismal covenant and welcome our LGBTQIA family members by:
Seeking and serving Christ in all persons, loving our neighbor as ourselves, and
Striving for justice and peace among all people, respecting the dignity of every human being.
Who Can Help Us in this Work?
Faith Formation Team
We welcome your comments and questions at any time. Please reach out to anyone on the Faith Formation team:
The Rev. Greg Foraker, Canon Missioner for Faith Formation
Tracy Methe, Faith Formation Coordinator
Elizabeth Cervasio, Director of Children and Youth Ministry, Elizabeth@EpiscopalColorado.org
Communications Support, including Websites
Mike Orr, Director of Communications
Mentors, Coaches, Advisors
(LGBTQIA Advocates in the Episcopal Church Colorado)
The Rev. Nancey Johnson-Bookstein, Deacon, St. Brigit's, Frederick
The Rev. Kate Bradsen, Rector, St. Stephen's, Aurora
The Rev. Cynthia Espeseth, Rector, All Saints, Loveland
The Rev. Reagan Humber, Pastor, House for All Sinners and Saints, Denver
The Rev. Susan Merrin, Priest and Pastor, St. Andrews, Manitou Springs
The Rev. Jeffrey Nelson, Priest in Charge, St. Barnabas, Denver
Bill Oliver, Integrity USA Liaison for Colorado, St. Michael the Archangel, Colorado Springs
The Rev. Dana Soloman, Assisting Priest, St. Stephen's, Longmont
The Rev. Bonnie Spencer, Priest in Charge, Holy Reedemer, Denver
The Rev. Bill Stanton, Priest in Charge, St. Alban's, Windsor
The Rev. Laura Stephenson, Associate Rector, St. Matthew's, Grand Junction
Realities Intensive: LGBTQIA Welcoming and Inclusion
This event, originally scheduled for April 2020, has been postponed until the fall. For more information, please contact Tracy Methe.
This is a weekend foreducating, empowering, and equipping LGBTQIA leaders and advocates to provide radical welcome and fully include LGBTQIA people in the life of our congregations. The weekend is hosted by the Office of the Bishop and guest leader The Rev. Canon Susan Russell, Canon for Engagement Across Difference, Episcopal Diocese of Los Angeles, and Assisting Priest at All Saints Episcopal Church, Pasadena.  This is a great weekend for clergy and lay leaders from congregations to attend together.
About The Rev. Canon Susan Russell: A life-long Episcopalian and native of Los Angeles, Susan Russell is the Canon for Engagement Across Difference in the Episcopal Diocese of L.A. and is part of the clergy staff at All Saints, Pasadena. A long time activist in LGBTQ and women's issues, Susan was a founding member of the HRC (Human Rights Campaign) Religion Council, served on the National Clergy Advisory Board for Planned Parenthood and as a member of the Task Force for the Study of Marriage for the Episcopal Church. She currently (2018-2021) co-chairs the national Task Force for Communion Across Difference for the Episcopal Church. She and her wife Lori share four grown children between them and are the proud grandmas of first grandchild Hayes Anthony. They also share a love of animals (three dogs and three cats), theater, music and baseball.
Cost: $150 per person + $75 for optional Saturday overnight
Resources for Learning and Discovery
The following resources are organized in an order we hope proves useful–an order of increasing complexity that allows you to delve deeper as you learn about the lives of LGBTQIA people, become knowledgeable about the joys and challenges they experience, and begin to understand the areas congregations may need to address in order to fully welcome them.

Becoming a Welcoming Congregation
What does it mean to be a welcoming congregation? A welcoming congregation welcomes and affirms people of all sexual orientations, gender identities, and gender expressions. We also call these congregations "Believe Out Loud" congregations because they have written and publicly promote a statement of welcome. The on-line Believe Out Loud community, a leading platform for Christian faith and LGBTQIA advocacy endorsed by the Episcopal Church, states that "privately believing that LGBTQIA persons should have an equal share in our church and society is not enough; we must publicly proclaim that belief." Download Believe Out Loud brochure >
At the 2018 meeting of the General Convention Deputies and Bishops approved a resolution giving all Episcopalians the ability to be married by their priests in their home churches. The Resolution (Resolution B012) gives full access to two trial-use marriage rites for same-sex and opposite-sex couples approved by the 2015 & 2018 meetings of General Convention.
Becoming a welcoming congregation engages the congregation in a thorough discernment process involving education, listening, and prayer. Discernment may take six months to two years depending on your congregation's history of welcoming and affirming LGBTQIA people. IntegrityUSA, the LGBTQIA organization for the Episcopal Church, recommends the 11-step Building an Inclusive Church: A Welcoming Toolkit to guide you in the work of discernment. The toolkit draws upon 30 years of experience within a variety of Christian denominations and can be adapted to engage the wide range of congregational experiences and settings. Biblically and theologically based, it uses tools of relational organizing, congregational assessment, conflict management, and change theory.
Before getting started, read the diocesan Marriage Guidelines
Leading the Process
Gather a group of 5-10 people who share a passion for inclusion. This team will lead the initial process. We recommend half vestry members and half non-vestry worshipers committed to the process. It is important to involve your vestry or bishop's committee every step of the way. Update the Bishop with stories of how the process is going.
Gathering Information
Have your team spend time looking at how your congregation handles change, talks about difficult topics, and responds to social and justice issues. Use the tools provided in the toolkit.
Outlining your Process
Lay out the discernment process. The length of discernment varies by congregation.
Building Relationships
This is a time of deep listening. Widen the circle. Meet with parishioners one-on-one or in small groups. Make sure everyone has a chance to listen and be heard.
Making it Official
Now is the time for the core team to become an officially recognized committee of the congregation, sometimes called the Welcoming Task Force. The committee includes the core team but might be expanded to include additional stakeholders who are proponents and supporters.
Setting the Frame and Providing Educational Opportunities
Schedule monthly meetings for education, prayer, and discussion. View sample agenda> Be sure to schedule times to meet as a committee to discuss how the process is going.
Writing Your Welcoming Statement
Writing a welcoming statement shows that you have made a commitment to being a welcoming congregation. Statements should be customized to reflect your community.
Conducting an Exploratory Survey
The Exploratory Survey helps ensure that all groups and individuals have had the chance to be heard and that you have done the work of addressing fears and anxieties.
Holding the Vote
The vote is the opportunity for your congregation to publicly affirm your commitment to being a welcoming congregation. In the Episcopal Church, the vestry will take this vote on behalf of the congregation.
Celebrating and Publicizing
Hold a special worship service, reception, or party. Publicize your welcome statement– on your website, in your bulletin, on your Facebook page. Register that you are a welcoming church with Believe Out Loud. See list of Episcopal Church in Colorado Believe Out Loud congregations >
We're Welcoming…Now What?
Provide ongoing opportunities for education and relationship-building. Being a welcoming congregation will hopefully increase your awareness of other forms of oppression and specific welcomes that need to be extended.
Taken from Building an Inclusive Church: A Welcoming Toolkit
Support Organizations
As you embark on your journey of inclusion, keep the following community partners in mind.
Pastoral Resources
The LGBTQIA community faces mental health conditions just like the rest of the population. However, LGBTQIA individuals may experience more negative mental health outcomes due to prejudice and other biases. These resources can assist you in understanding and supporting the mental health of LGBTQIA adults and youth.
The lesbian, gay, bisexual, transgender, queer and questioning (LGBTQIA) community faces mental health conditions just like the rest of the population. However, individuals may experience more negative mental health outcomes due to prejudice and other biases. It is important to know the challenges of the LGBTQIA community and how to find and work with LGBTQIA-inclusive mental health providers that can help ensure more positive outcomes. (National Association for Mental Illness)
The Trevor Project is the world's largest suicide prevention and crisis intervention organization for LGBTQIA young people. The organization offers a suite of 24/7/365 crisis intervention and suicide prevention programs, including TrevorLifeline, TrevorText, and TrevorChat as well as the world's largest safe space social networking site for LGBTQIA youth, TrevorSpace. The Trevor Project also offers an education program with resources for youth-serving adults and organizations, a legislative advocacy department fighting for pro-LGBTQIA legislation and against anti-LGBTQIA rhetoric/policy positions, and conducts research to discover the most effective means to help young LGBTQIA people in crisis and end suicide. Trained crisis counselors are available 24/7/365 at 1.866-488.7386 and www.TheTrevorProject.org/Help.
Additional Topics for Exploration
Does Jesus Really Love Me? A Gay Christian's Pilgrimage in Search of God in America by Jeff Chu. An "intellectual, emotional, and spiritual pilgrimage" that shows the tension between faith, politics, and sexuality.  Read more or order >
The Velvet Rage: Overcoming the Pain of Growing Up Gay in a Straight Man's World by Alan Downs. Psychologist Alan Downs draws on his own struggle with shame and anger, contemporary research, and stories from his patients to describe the stages of a gay man's journey out of shame. The author offers practical and inspired strategies to stop the cycle of avoidance and self-defeating behavior experienced by many gay men. Read more or order >