Welcome
The Episcopal Church in Colorado is a diverse community made up of 104 worshiping communities centered on a common faith, with approximately 30,000 members of all ages and backgrounds. However you got here, wherever you are in your faith journey, we hope you find ways to connect  and deepen your faith…
Cathedral Ridge
Cathedral Ridge is a bold venture in ministry by The Episcopal Church in Colorado, representing an innovative vision and long-term commitment to invest in the heart of the next generation. Discover a place where you will experience hospitality, transformation, and deepened connections to God and to each other.
Our Diocesan Regions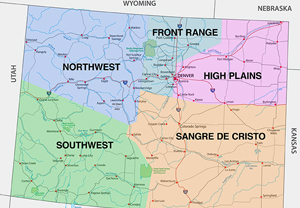 There are five Regions in The Episcopal Church in Colorado that encourage and promote partnerships in local mission initiatives; facilitate the participation of clergy and lay leadership at Diocesan and General Conventions; and strengthen communication between the Regions and the Office of the Bishop.
Upcoming Events
Nov
11
Mon
Walking the Camino to Spain: The Portuguese Way
A Camino Pilgrimage for Episcopalians across Colorado
Have you dreamed of making a pilgrimage walking the Camino to Santiago Spain? This year we have a created an inspiring Camino Pilgrimage open to all Episcopalians across Colorado. On this journey, we will experience the life-changing power of walking the Camino, deepen relationships across the Church in Colorado, and deepen our bonds with the Reformed Episcopal Church in Spain. We will encounter God in the awe-inspiring landscape of Portugal and Spain and witness the power of the Spirit revealed in pilgrims we will meet along the Way.
Our Camino journey will begin in Portugal in the faith-inspiring village of Fátima, before traveling north to join the Portuguese Way, walking the Way to Santiago, Spain. This pilgrimage invites pilgrims to experience their faith like never before.
View the Camino Pilgrimage Itinerary for a more detailed overview of our time together.
Trip leader: The Rev. Canon Greg Foraker, Missioner for Faith Formation
Trip cost: $3,649-3,779 per person double occupancy depending on the number of travelers.
For more information, please contact the Rev. Canon Greg Foraker, Missioner for Faith Formation, at Greg@EpiscopalColorado.org/.
Pilgrimage FAQs
What can I expect to experience this pilgrimage? This pilgrimage is a perfect opportunity to walk the ancient pilgrimage path from northern Portugal to Santiago, Spain. This inspiring pilgrimage involves physical activity including walking an average of 20 km a day, climbing stairs, and hiking over rocky and uneven ground.
Why is this pilgrimage set for November? Autumn is a great time to walk the Camino when crowds are lower, fall colors are changing, and temperatures are cooler. It is also a perfect time for pilgrims to renew their faith and find new inspiration just ahead of the Advent and Christmas seasons.
What if my congregation is too small to plan a pilgrimage in the future? This pilgrimage is open to lay and clergy Episcopalians from across Colorado and for pilgrims from congregations of all sizes. This Camino journey will be a perfect opportunity to meet and connect with pilgrims from every corner of Colorado and from around the world.
What physical preparation is needed to make this pilgrimage?
Pilgrims from 21 to 82 have made a Camino journey with our leader. Begin a regular practice of walking now and experience the benefits of integrating body, mind, and spirit as an inspiring and faith-filled practice. You will likely return from the Camino in the best shape of your life.
Is this a religious pilgrimage? Walking the Camino de Santiago is rooted in Christian faith and history. This pilgrimage offers a profound invitation to deepen one's relationship with God, to open to others along the way, and to walk with Jesus each day.
Registration
To register, please download and complete the Trip Reservation Form, and mail it to Worldwide Journeys along with:
A copy of your passport. Please note that your passport must be valid for at least six months after your return date.
A nonrefundable deposit check for $900 made out to Worldwide Journeys.
Mailing address for registration materials:
Worldwide Journeys
1131 N. Laura St.
Jacksonville, FL 32206-3296.
Space for this inspiring journey is limited. To reserve your place, send your materials and deposit by April 5, 2019.
Questions?
For more information, please contact the Rev. Canon Greg Foraker, Missioner for Faith Formation, at Greg@EpiscopalColorado.org.
Kym Lucas is consecrated as 11th bishop of The Episcopal Church in Colorado
The Rev. Kimberly (Kym) Lucas was ordained and consecrated as the eleventh bishop of The Episcopal Church in Colorado on May 18 at Saint John's Cathedral in Denver. Lucas became the first woman bishop as well as the first African American bishop in the diocese's 132-year history.
Presiding Bishop Michael Curry led the service as chief consecrator. The Very Rev. Kelly Brown Douglas, Ph.D., Dean of Episcopal Divinity School at Union Theological Seminary, New York City, and Canon Theologian at Washington National Cathedral in Washington, D.C., was the preacher. Following the service, a celebratory reception was held on the lawn at the Cathedral.