The Transforming Power of Pilgrimage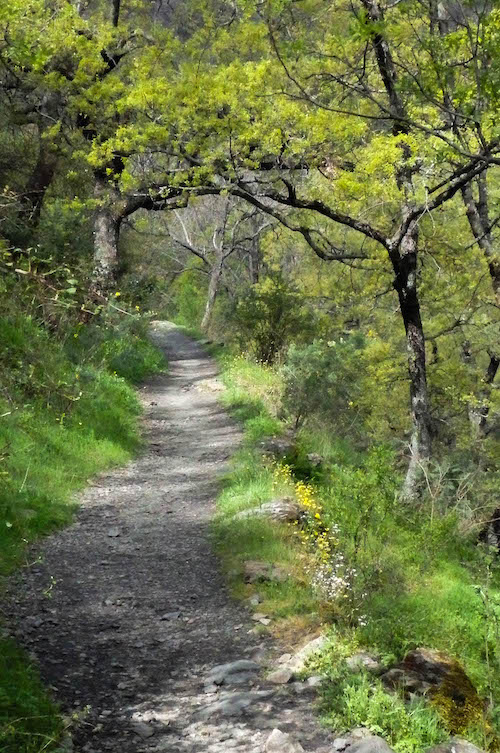 The spiritual practice of pilgrimage traces to the beginning of our tradition, as early Christians sought to encounter the Risen Christ by walking in the footsteps of Jesus in Jerusalem and throughout the Holy Land. Over the centuries, the transforming power of pilgrimage was discovered in paths and destinations around the Christian world, including the Camino in Spain, Canterbury, Iona, and Taizé. Pilgrims journeyed along these sacred ways and visited these and other holy places as a way of deepening their faith and inspiring their lives. Pilgrimages can be local, regional, across North America, and international: from the San Luis Valley in Colorado, to a border pilgrimage to Mexico, to a compelling journey to the Holy Land.
Today both adult and youth pilgrims from across Colorado have been drawn to pilgrimages near and far and discovered that by making pilgrimage, individuals and communities experience their faith and find inspiration in ways they never imagined!
Explore this page to learn about pilgrimage offerings from around the Episcopal Church in Colorado. This year, international pilgrimages on the Camino to Santiago, Spain, the Holy Land, and Ireland and Scotland are planned and welcoming pilgrims. Consider joining one of these pilgrimages or create a unique pilgrimage that will meet the hopes and needs of you and your parish community. The Faith Formation Team (the Rev. Canon Greg Foraker, Tracy Methe and Elizabeth Cervasio) is available to help you imagine and plan your next pilgrimage!
Financial Assistance
We want pilgrimage to be accessible to everyone. Please reach out to us at Faith@EpiscopalColorado.org if you would like to request financial assistance.
We invite and welcome donations to our Pilgrimage Scholarship Fund. One hundred percent of funds raised support individuals seeking financial assistance for pilgrimage. Donate now >
Walking the Camino to Spain: A Pilgrimage over the Pyrenees along the French Way October 19 – November 3, 2020
Have you dreamed of making a pilgrimage walking the Camino to Santiago, Spain? For 2020 we have created another inspiring Camino Pilgrimage open to all Episcopalians across Colorado. On this journey, we will experience the life-changing power of walking the Camino, deepen relationships across the Church in Colorado, and strengthen our bonds with the Reformed Episcopal Church in Spain. We will encounter God in the awe-inspiring landscape of France and Spain and witness the power of the Spirit revealed in pilgrims we will meet along the Way.
Our Camino journey will begin in France in the faith-inspiring village of Lourdes, before traveling south to join the French Way, walking over the Pyrenees and across Spain to Santiago. This pilgrimage invites pilgrims to experience their faith like never before.
View the Camino Pilgrimage Itinerary for a more detailed overview of our time together.
Trip leader: The Rev. Canon Greg Foraker, Missioner for Faith Formation
Trip cost: $3,779-4,449 per person, double occupancy, depending on the number of travelers. There is a single supplement of $699.
For more information, please contact the Rev. Canon Greg Foraker, Missioner for Faith Formation, at Greg@EpiscopalColorado.org.
Pilgrimage FAQs
What can I expect to experience this pilgrimage? This pilgrimage is a perfect opportunity to walk the ancient pilgrimage path from southern France to Santiago, Spain. This inspiring pilgrimage involves physical activity including walking an average of 20 km a day, climbing stairs, and hiking over rocky and uneven ground.
Why is this pilgrimage set for fall? Autumn is a great time to walk the Camino when crowds are lower, fall colors are changing, and temperatures are cooler. It is also a perfect time for pilgrims to renew their faith and find new inspiration just ahead of the Advent and Christmas seasons.
What if my congregation is too small to plan a pilgrimage in the future? This pilgrimage is open to lay and clergy Episcopalians from across Colorado and for pilgrims from congregations of all sizes. This Camino journey will be a perfect opportunity to meet and connect with pilgrims from every corner of Colorado and from around the world.
What physical preparation is needed to make this pilgrimage?
Pilgrims from 21 to 82 have made a Camino journey with our leader. Begin a regular practice of walking now and experience the benefits of integrating body, mind, and spirit as an inspiring and faith-filled practice. You will likely return from the Camino in the best shape of your life.
What spiritual preparation is needed to make this pilgrimage?
Beginning six months before traveling, pilgrims will begin to gather for monthly Zoom meetings and weekly online discussions around the spiritual practices of walking, prayer, and pilgrimage. In addition the group will gather September 11-13 for a weekend retreat at Cathedral Ridge to meet one another in person, share in preparation, and walk and hike together. The cost of the retreat is $150 per person.
Is this a religious pilgrimage? Walking the Camino de Santiago is rooted in Christian faith and history. This pilgrimage offers a profound invitation to deepen one's relationship with God, to open to others along the way, and to walk with Jesus each day.
Registration
To register, please download and complete the Trip Reservation Form, and mail it to Worldwide Journeys along with:
A copy of your passport. Please note that your passport must be valid for at least six months after your return date.
A nonrefundable deposit check for $900 made out to Worldwide Journeys.
Mailing address for registration materials:
Worldwide Journeys
1131 N. Laura St.
Jacksonville, FL 32206-3296.
Space for this inspiring journey is limited. To reserve your place, send your materials and deposit by February 29, 2020.
Questions?
For more information, please contact the Rev. Canon Greg Foraker, Missioner for Faith Formation, at Greg@EpiscopalColorado.org.
Diocesan Trip to the Holy Land May 29 – June 8, 2021
The Episcopal Church in Colorado and Saint John's Cathedral are organizing an exciting opportunity to explore the roots of our faith with a pilgrimage to the Holy Land. Come and walk with us in the footsteps of Christ through the land where the central events of Holy Scripture took place. Enjoy intimate conversations and meals with local Arab Anglicans and other Christians, Jews, and Muslims as we pray, worship, and enter into dialogue around the issues that confront this sacred land, its peoples, and us as faithful Episcopalian Christians. It is sure to be an unforgettable and transformative experience!
Check out the detailed tour itinerary (also located at the bottom of this page).
For questions and inquiries, please contact Greg Movesian, Cathedral parishioner.
Check out a four minute TED talk by the founder of MEJDI in which he outlines the history and philosophy behind the company.
---
Before you Register:
Read through the Terms and Conditions
Do not book your flight until you receive the tour confirmation email from us. This tour requires a minimum number of travelers to run and we will send out the tour confirmation (and update this note on the webpage) as soon as we have met that number.
If you are registering for more than one person, please email Shannon Okuonghae with the following information for each traveler:

Name (First and Last)
Email (If they would like to receive pre-trip communication from us)
Phone Number
If you are requesting single or double rooms. There is a single room supplement fee of $1,020 as the tour price is based on double occupancy in a hotel room

*Price may decrease based on number of travelers, please see the below pricing tier. Please note: Pricing varies based on a number of factors (duration of tour, type and location of sites and attractions, quality of hotels, etc).
Pricing tiers:

20-22 Paying Participants: $3,515 per paying participant
17-19 Paying Participants: $3,690 per paying participant
BOOK NOW $3,515 per person
Trip Includes:
10 nights' accommodation (double occupancy) as listed in itinerary
2 MEJDI-Trained Guides
9 days of private group transportation
2 two-hour orientation meetings pre-departure with Rev. Dr. Mae Elise Cannon, Executive Director of Churches for Middle East Peace
The Rev. Weezie Browner Blanchard will offer pre-departure orientation sessions re the pilgrimage experience and related spiritual practices
Meals listed in itinerary
Entrances, sites, and honorariums for speakers
Audio headsets on touring days
Water on bus throughout tour
Customary tips for drivers, guides, hotel and wait staff
Dedicated pre-trip customer service and on-ground support
Trip Does Not Include:
Travel insurance-HIGHLY RECOMMENDED
International airfare
Single Supplement-$1,020 (limited availability)
Meals not included in the itinerary
Arrival and departure airport transfers
Transportation outside of group itinerary
Anything not explicitly mentioned in the included section
Resources:
Walking the Camino Francés: A Camino for Deacons and Service-Inspired Individuals November 3 – 13, 2020
Deacons, individuals interested in the Diaconate, and all people passionate about service, from across Colorado and beyond, are invited to join in this specially created pilgrimage walking the Camino to Santiago in November 2020. This journey of contemplation, prayer, and service will begin with visits to ministry sites of the Spanish Episcopal Church in Madrid, Salamanca and Sarria before walking the Camino Francés to Santiago. This unique and inspiring pilgrimage is designed to inspire, sustain, and empower your life and ministry.
A Deacon-Designed Camino Pilgrimage:
 

Contemplation and Action on the

 

Journey to Santiago de Compostela

The Deacons Pilgrimage will be led by the Rev. Deacon Charlotte Shepic & the Rev. Deacon Linda Brown, he Episcopal Church in Colorado.

Cost: $3,899 (supplement for single rooms is $569)

The Camino de Santiago, or the way of St. James, actually begins in St. Jean de Port, France and continues some 500 miles to Santiago. This same path has been taken for hundreds of years by the faithful making their holy pilgrimage to Santiago de Compostela. The path was also used by Roman, Moor and Saracen invaders, the Knights Templar and the armies of Charlemagne and Napoleon. Therefore, this journey is not only steeped in spiritual significance as you travel to the place believed to be the burial site of St. James, but it also has much historical and cultural significance. 

This pilgrimage involves physical activity, including the ability to walk many miles at a time, to climb stairs, to climb hills and mountains and to be "on one's feet" for hours at a time. The terrain is varied, ranging from simple footpaths to paved highways. Some of the footpaths are gravel, rocky, dusty, muddy and rutted by farmer's tractors. Pilgrims will need sturdy hiking boots and collapsible poles. Each evening we will have a briefing of the following day's walk options.
Additional Pilgrimage Opportunities
Pilgrimage to Ireland and Scotland
St. Stephen's Aurora is hosting a pilgrimage to Ireland and Scotland in September and they would love to have people from the larger Episcopal Church in Colorado join them.
Worldwide Journeys is proud to sponsor two familiarization pilgrimages for clergy and youth leaders at a reduced rate. Familiarization pilgrimages give leaders a chance to see what makes Worldwide Journeys' pilgrimages different and offer leaders a chance to visit places that they may want to take their congregations.
Visit the Holy Land for only $1999* or France for only $999*
Holy Land Familiarization Pilgrimage* – You will visit Caesarea, Megiddo, Nazareth, The Mount of Beatitudes, Mount Tabor, Jericho, St. George's Monastery, Bethlehem, Jerusalem, and more. Comfortable accommodations, a private motor coach, an English-speaking guide, all meals, and flights from the gateway city (TBD in March 2020) are included for only $1999* for clergy and youth leaders.
Please see our website or call our office for more details.
The Historic and the Holy: Familiarization Pilgrimage to France* – You will visit Cabourg, Normandy, Mont-Saint-Michel, Omaha Beach, Sainte Chapelle, Paris, and more. Comfortable accommodations, a private motor coach, an English-speaking guide, most meals, and flights from Newark are included for $999* for clergy and youth leaders.
Please see our website or call our office for more details.
*Familiarization pilgrimages are only open to active clergy members and youth leaders. In order to participate, pilgrims must be able to provide documentation from their church.
Worldwide Journeys: 904-350-0067
www.WorldwideJourneys.com