Epidemic Preparedness
Influenza and Coronavirus (COVID-19)
Connected in Common: Home-Based Worship & Community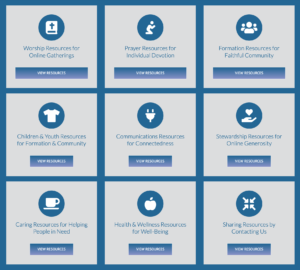 In order to curate and share resources that will help churches provide opportunities for home-based worship and community during a time of social distancing to prevent the spread of COVID-19, we've launched a new resource hub called
Connected in Common
.
On this page, you'll find the following resources:
Worship Resources for Online Gatherings
Prayer Resources for Individual Devotion
Formation Resources for Faithful Community
Children & Youth Resources for Formation & Community
Communications Resources for Connectedness
Stewardship Resources for Online Generosity
Caring Resources for Helping People in Need
Health & Wellness Resources for Well-Being
The Office of the Bishop staff is working hard to provide the best resources for churches in the Episcopal Church in Colorado. We welcome your resources! If you have an idea, a link, a resource to share, etc, please send to
mike@episcopalcolorado.org
. Resources will continue to be added as they are created and shared.
Conectados en Común: Adoración y Comunidad en el Hogar
Con el fin de remediar y compartir recursos que ayudarán a las iglesias a proporcionar oportunidades para el culto en el hogar y la comunidad durante este tiempo de distanciamiento social para evitar la propagación del COVID-19, hemos lanzado un nuevo centro de recursos llamado Conectados en Común.
En esta página, encontrará los siguientes recursos:
• Recursos de Adoración para Reuniones en línea de Internet
• Recursos de Oración para la Devoción Individual
• Recursos de Formación para una Comunidad fiel
• Recursos para Niños y Jóvenes para la Formación y la Comunidad
• Recursos de Comunicaciones para estar Conectados
• Recursos de Mayordomía para la Contribuir generosamente electronicamente
• Recursos de Cuidado para Ayudar a las Personas Necesitadas
• Recursos de Salud y Bienestar para el Bienestar Integral
El personal de la Oficina del Obispo está trabajando arduamente para proporcionar los mejores recursos para las Congregaciones de la Iglesia Episcopal en Colorado. ¡Damos la bienvenida a sus recursos! Si usted tiene una idea, un enlace, un recurso para compartir, etc, por favor envíeselo a mike@episcopalcolorado.org. Los recursos se seguirán agregando a medida que son creados y compartidos.
A Message from Bishop Kym Lucas: "The Bad Thing Is Never the Last Thing for Christians."
Thursday, March 19, 2020
Dear Siblings in Christ,
None of us knew how much we would have to give up in this particular Lent. This is not the season we hoped for; and, in these uncertain times we will have to dig a little deeper, leaning more heavily on the faith that is in us.
At this time, the Episcopal Church in Colorado should continue to forgo all public, in-person worship services and all other Sunday, Saturday, and weekday in-person gatherings (including weddings, funerals, memorial services, bible studies, prayer meetings, and non-emergency baptisms) from now until at least May 10 (as recommended by the CDC) or until we receive further information.
This extension, of course, means we will have to reimagine both Holy Week and Easter. And while my heart broke a little at this realization, my faith journey has taught me that the Spirit works transforming us and building us in our broken places.
As your Bishop, my primary concern is for the health and safety of our members. We in the Episcopal Church of Colorado are being called to lead our state in caring for our communities by embodying a pastorally sensitive approach to physical distancing practices. Research shows that the more physical distance we place between ourselves and our neighbors, the more we help to slow the spread and mitigate impact of COVID-19 (Corona virus). At the same time, we are called to embody Christ's love, to be the Body of Christ for each other and the world. To that end, while we are physically separated, we will work to remain emotionally and spiritually connected to one another and to our world.
I encourage congregations to continue to connect with one another: to offer spiritual nourishment and pastoral care through virtual meetings, video and phone calls. I ask that feeding ministries and food pantries continue to operate, instituting the recommended hygiene practices and serving in a "curbside only" capacity. I also ask churches to consider how to mobilize members that are at less risk from Covid-19 (those ages 20-40) in providing grocery delivery for our high-risk people.
I suspect that many of you are asking, "But what about Easter?" I am reminded that when the first Easter happened, the disciples were holed up, hiding in fear for their lives…and Resurrection happened! We, the body of Christ, know the promise of Easter, and even in these strange circumstances, Resurrection will happen. The Office of the Bishop is already working on gathering resources that will enable congregations to adapt how we do the spiritual work of Holy Week.
While this is not the Lent/Easter season that we had hoped or planned for, nonetheless, it is the season in which we find ourselves and God is with us. I give thanks for all of you, for your creativity, your humor, and above all, your faith and commitment to being the Body of Christ.
Faithfully,
Bishop Kym Lucas
Bishop Letter (PDF)
Un mensaje de la Obispo Kym Lucas: "Lo malo nunca es lo último para los Cristianos."
Thursday, March 19, 2020
Queridos hermanos y hermanas en Cristo,
Ninguno de nosotros sabía en particular cuánto tendríamos que renunciar en esta Cuaresma. Esta no es la temporada que esperábamos; y, en estos tiempos inciertos tendremos que cavar un poco más profundo, apoyándonos más fuertemente en la fe que hay en nosotros.
En este momento, la Iglesia Episcopal en Colorado debe continuar renunciando a todos los servicios públicos, de adoración en persona y a todas las demás reuniones en persona sea en domingo, sábado, y cualquier día dela semana (incluyendo bodas, funerales, servicios conmemorativos, estudios bíblicos, reuniones de oración y bautismos que no sean de emergencia) desde ahora hasta por lo menos el 10 de mayo (según lo recomendado por el CDC) o hasta que recibamos más información.
Esta extensión, por supuesto, significa que tendremos que re-imaginar tanto la Semana Santa como la Pascua. Y aunque mi corazón está un poco triste para comprender esto, mi camino de fe me ha enseñado que el Espíritu trabaja transformándonos y edificándonos en nuestros lugares quebrantados.
Como obispo de ustedes, mi principal preocupación es la salud y la seguridad de nuestros miembros. En la Iglesia Episcopal de Colorado estamos llamados a ser los lideres en nuestro estado en el cuidado de nuestras comunidades mediante la encarnación de un enfoque pastoralmente sensible a las prácticas de distanciamiento físico. Las investigaciones muestran que cuanto más distancia física pongamos entre nosotros y nuestros vecinos, más ayudamos a frenar la propagación y mitigamos el impacto del COVID-19 (el virus Corona). Al mismo tiempo, estamos llamados a encarnar el amor de Cristo, a ser el Cuerpo de Cristo el uno para el otro y para el mundo. Con ese fin, mientras estemos físicamente separados, trabajaremos para permanecer emocional y espiritualmente conectados entre nosotros y con nuestro mundo.
Animo a todas las congregaciones a seguir conectándose entre sí: ofrecer alimento espiritual y atención pastoral a través de reuniones virtuales, videollamadas y llamadas telefónicas. Pido que los ministerios de que proveen alimentos y las despensas de alimentos sigan funcionando, instituyendo las prácticas de higiene recomendadas, y sirviendo en una capacidad "sólo en la acera". También pido a las iglesias que consideren cómo movilizar a los miembros que están en menor riesgo de Covid-19 (aquellos de 20 a 40 años) en proporcionar la entrega de alimentos para nuestra gente de alto riesgo.
Sospecho que muchos de ustedes se están preguntando, "¿Pero, qué pasara con la Pascua?" Les recuerdo que cuando ocurrió la primera Pascua, los discípulos se escondieron, se escondieron temerosos por sus vidas… ¡y la Resurrección sucedió! Nosotros, el cuerpo de Cristo, conocemos la promesa de la Pascua, e incluso en estas extrañas circunstancias, ¡la Resurrección sucederá! La Oficina del Obispo ya está trabajando en la recolección de recursos que permitirán a las congregaciones adaptarse a la forma en que realizaremos la obra espiritual de Semana Santa.
Si bien este no es el tiempo de Cuaresma/Pascua que esperábamos o habíamos planeado, sin embargo, es el tiempo en que nos encontramos y Dios está con nosotros. Doy gracias por todos ustedes, por su creatividad, su humor y, sobre todo, su fe y compromiso con ser el Cuerpo de Cristo.
Fielmente,
Bishop Kym Lucas
A Message from Our Disaster Director
Dear Siblings in Christ,
I have the pleasure of working with some extraordinary people on the Colorado Diocesan Disaster Recovery Team. We, like all of you, have been concerned over the COVID-19 virus and the effects worldwide. As you all have noticed there are a wide range of responses to this virus, both in the news and on many websites.
The Colorado Diocesan Disaster Recovery team has been working very closely with Episcopal Relief and Development (ERD) and they in turn are working very closely with Centers for Disease Control and Prevention (CDC).
You will see articles, tips, and suggested information from a variety of sources which are being posted on both the Episcopal Church in Colorado website's Disaster Preparedness and Recovery pages; on the Diocesan Facebook page; and in the weekly Diocesan Digest eNewsletter. The hope is to keep you informed in a situation that is very fluid with information constantly changing. At the same time, we want to share with you that the Disaster Recovery Team is doing the best they can to find good information, directions, suggestions for all, and especially for our Bishop Kym Lucas.
As things change, information will be updated as fast as Canon Mike Orr can do it. As a number of you are working on your parish/mission disaster plans, we will be providing a template on Flu/COVID-19 that can be added to those disaster plans.
For the time being, please pray, keep calm, avoid being alarmist, and wash your hands with warm soapy water; and, as my granddaughter says, "you must do it long enough to sing Happy Birthday to yourself twice."
In Christ's Service,
The Rev. Canon Carl Andrews
Disaster Director for the Episcopal Church in Colorado